CdG-E: natural Vitamin E
Regular price
Sale price
36,90€
Unit price
per
Sale
Sold out
CdGE is a 100 % natural vitamin E for horses and dogs. Vitamin E is needed to maintain normal musculoskeletal functions and to support the nervous system and immune defense, among other things.

CdGE is a natural vitamin E in liquid form. Only a small amount is needed!
Vitamin E is one of the fat-soluble vitamins required by the body. Natural vitamin E promotes the normal wellbeing of skin and joints and is absorbed significantly more effectively compared to synthetic vitamins.
Every horse needs vitamin E daily unless it receives fresh hay every day.

The need for vitamin E increases if the horse´s / dog´s nutrition is rich in fat as well as in horses during the winter feeding season. Strong strain and competition increase the body's need for vitamin E. Heavy physical work loads the muscles, tendons and joints and may cause an imbalance between the oxidizing and oxidizing factors of cells. This imbalance damages the cells and therefore the need for vitamin E increases with increasing training and competing, for example.

There is also an increased need for vitamin E in breeding, pregnant and lactating animals. It is also recommended that vitamin E is given to older horses & dogs to support normal resistance. Vitamin E is also important for horses with Cushing's disease.

Vitamin E may help to improve scars, burns and skin irritations. Vitamin E deficiency can cause skin damage and dry skin.

Feed supplement for horses & dogs. Contains 100% natural alpha-tocopherol, 200 IU/ml.

Dosage:
HORSES:
During the winter season for all horses: 3 drops a day. (about 750 IU)
Young horses (under 1 year old): 4 drops per day. (about 1000 IU)
Pregnant mares for the last month of pregnancy, 5 drops a day. (about 1250 IU)
Horses on oil during the grazing period 1 drop / day if the amount of oil is less than 3 dl. (about 250 IU)
More than 3 dl of oil - give 2 drops / day. (about 500 IU)
DOGS:
Adult dog: light exercise 1 drop / day, demanding exercise 2 drops/ day, breeding dogs 2-3 drops / day.
Vitamin E oil is given with other food. Vitamin E is used in periods, according to need or according to a veterinary recommendation.

Nutrients: crude fat 99.9%, crude protein 0%, crude fiber 0%.

Additives: nutritional additives:

Vitamin E (RRR alpha-tocopherol) 134 mg / g min.
CdGE contains a natural alpha tocopherol 200 IU / ml.

1 pump pressure is about 1,4 ml.


The product is packed in an airless pump bottle which will remain after 3 months of opening.


According to studies, natural Vitamin E is more than twice as effective as compared to synthetic products.


CdGE is a trademark of Chia de GraciaTM.


The product is GMO free.
Share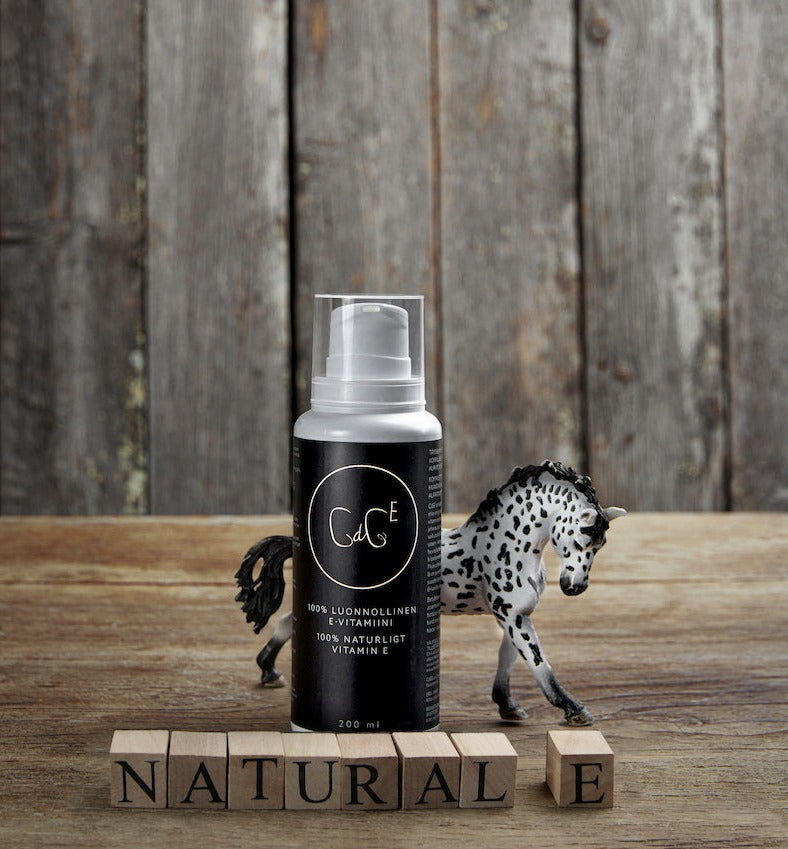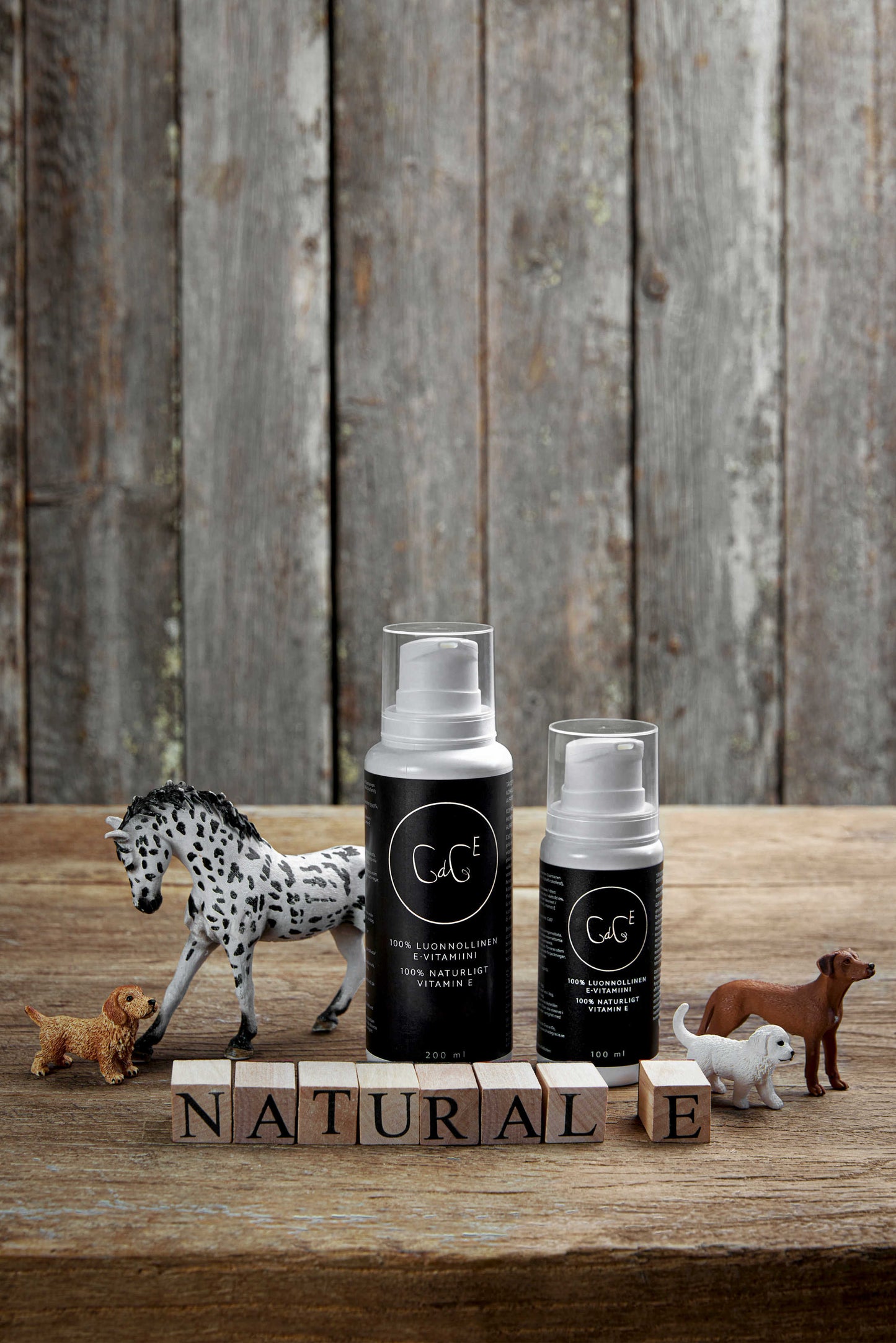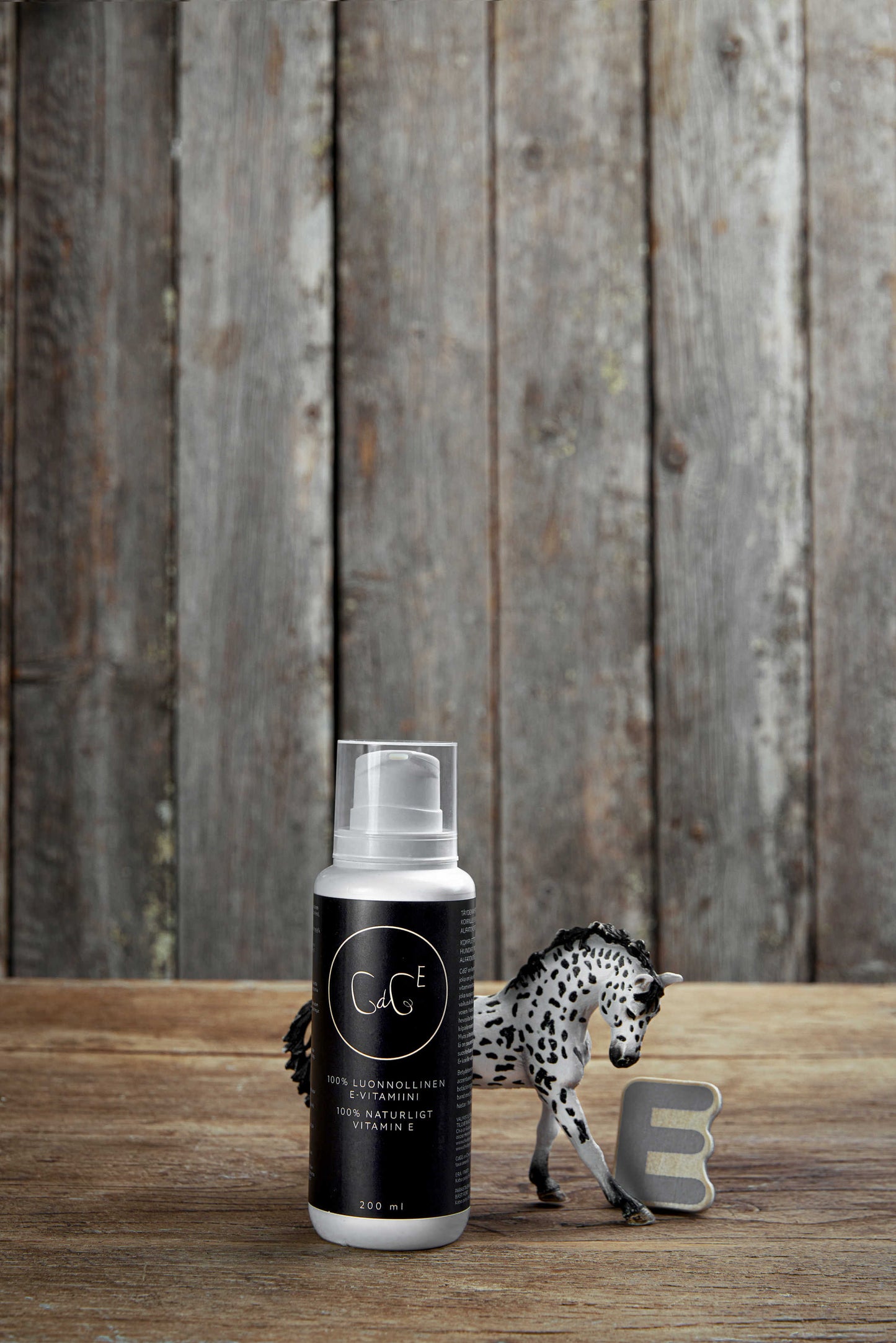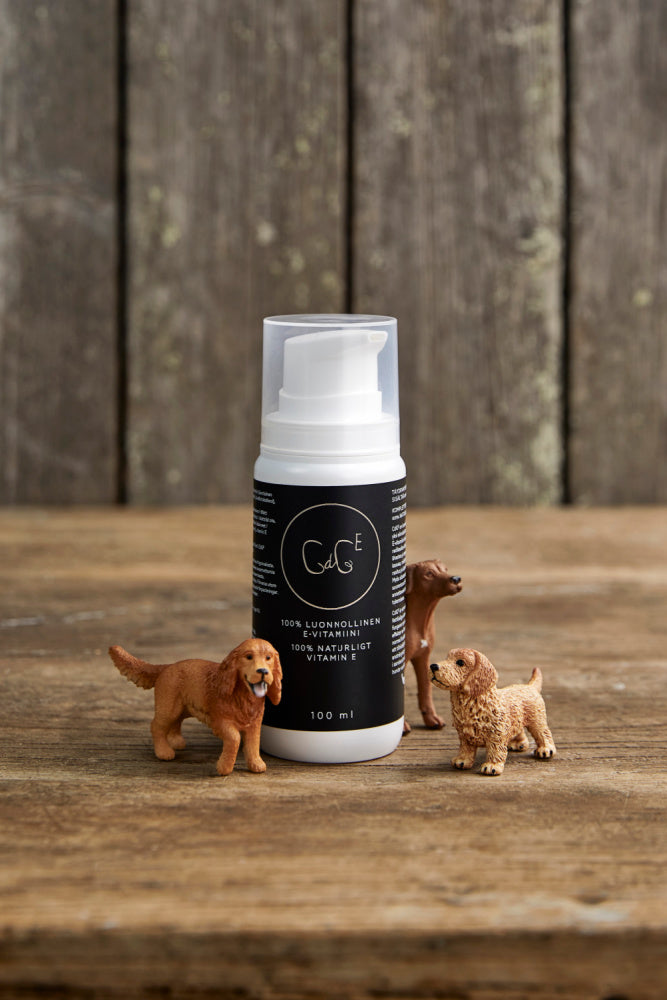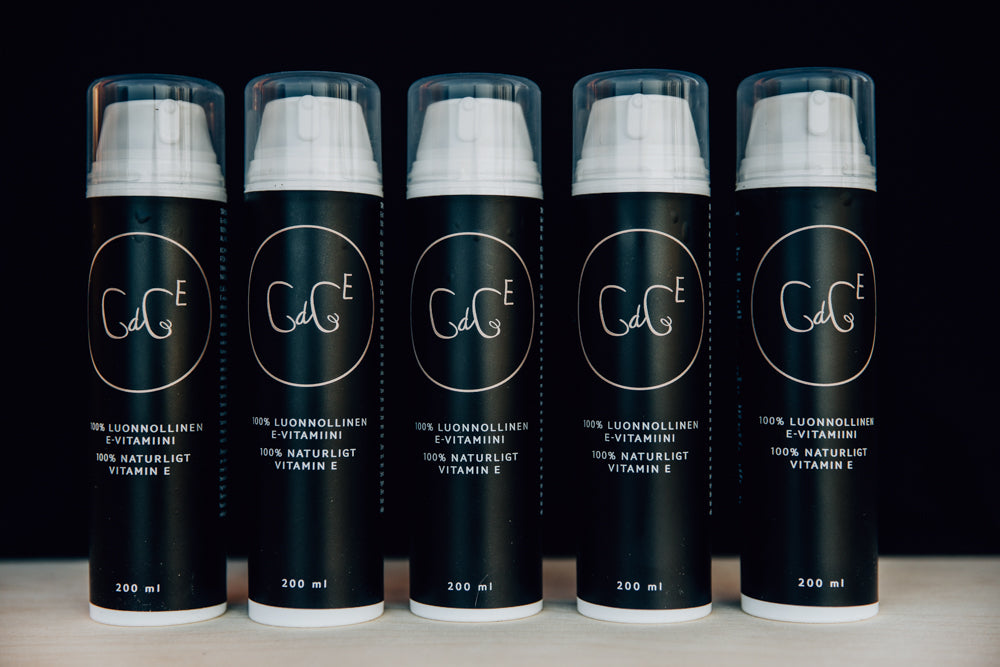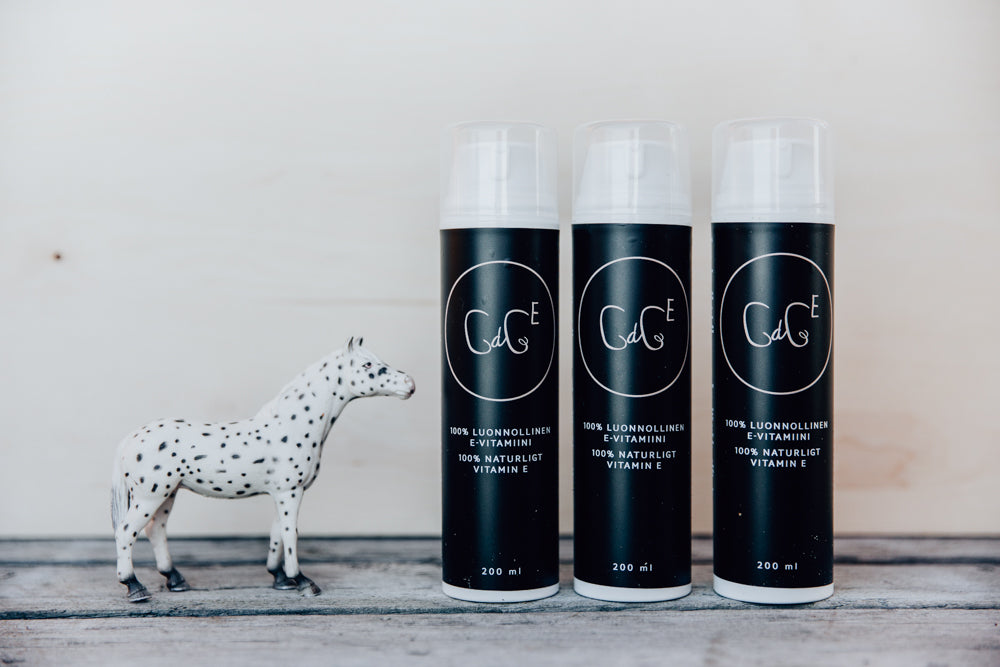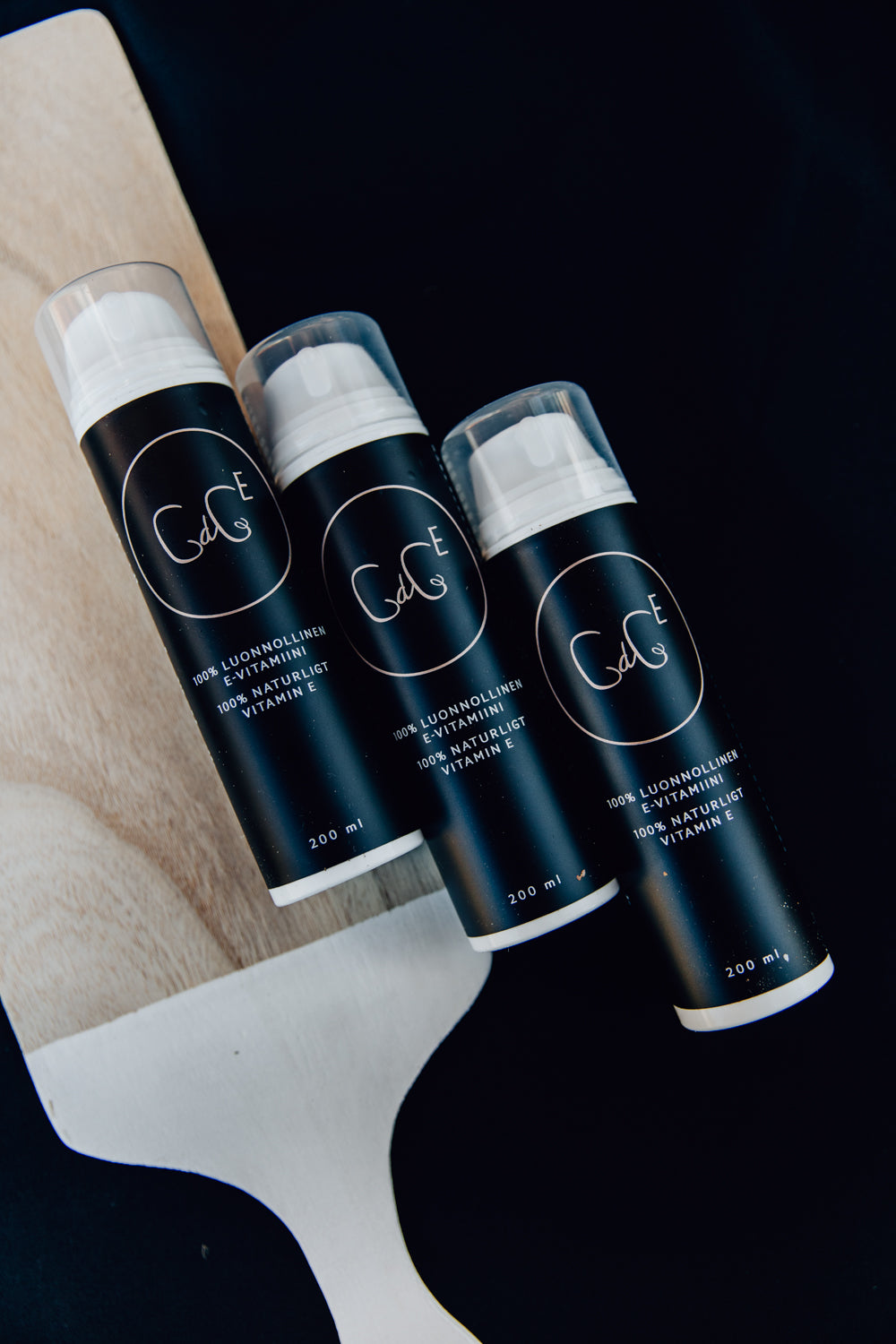 I am happy with the results seen so far